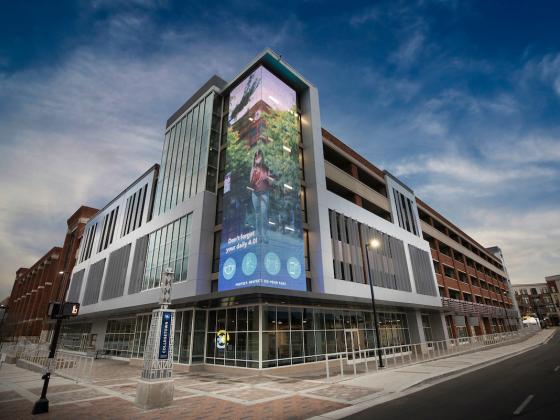 Check out the winners of the Inaugural Cornerstone Call for Art here! 
The Cornerstone serves as the gateway to an emerging innovation district that will further link the university with the city of Lexington. The innovation space and esports facilities on the first floor of The Cornerstone is now open. For more information on reserving a space please use UK's Event Management System. 
The Cornerstone Garage provides UK much-needed additional parking capacity on the north side of campus having added 900 new parking spaces to the existing parking structure at Limestone and Upper Streets.  These additional parking spaces will further improve mobility and access to, from, and around campus for our students, faculty, staff, and visitors. The parking garage which opened in mid-August 2020 has already made a difference in the mobility of campus life. 
The ground floor of The Cornerstone consist of 23,000 square feet of mixed-use space to further enhance the north side of UK's campus. A flexible, technology-rich innovation space with a variety of programming to stimulate conversation and collaboration between students, faculty, staff, and the community is now available. This innovation hub will anchor UK's role at the intersection of creativity, technology, entrepreneurship, and economic development. 
Other features of The Cornerstone include a gamers' lounge with 50 PC gaming stations and 3 console gaming areas, and a multiuse 100-seat theater that can host 6v6 esports tournaments, hold classes, and be the home for a myriad of other presentations and events. The Cornerstone Exchange food hall, with shared seating to build community and collaboration, will have its first stall ready to open in early November 2020 when A Cup of Common Wealth begins operations. Six additional stalls will be ready to open in January 2021. An iconic multi-story exterior media wall enhances the university's smart-campus efforts and provide messaging important to the UK Campus and The Cornerstone.